Welcome to Bolton Music Service
Bolton Music Service works in Bolton and Blackburn with Darwen. We work with all sectors of the local community to increase access to quality music making, to raise standards of music education across all schools and academies and to provide exciting musical pathways for children through tuition and music ensembles.
We are teaching around 8,000 children weekly to play a musical instrument, teaching the music curriculum in over a third of our local primary schools and running 45 weekly out-of-school bands, choirs and orchestras, including the recently launched T-Rock for budding rock musicians. Many of our students come through the Music Service and then go on to play in regional ensembles like the Halle Youth Orchestra and the Greater Manchester Youth Brass Band and in national groups like the National Youth Choir/ Brass Band / Orchestra.
We pride ourselves in looking after the needs of each child and providing the specialist tuition required for each child to realise their potential.
Music Lessons from Bolton Music Service
Want to know how your child can have vocal or instrumental lessons from Bolton Music Service?
Then take a look at our seven introduction to Musical Instruments and Singing videos below, click the link to find the video that will be most useful to you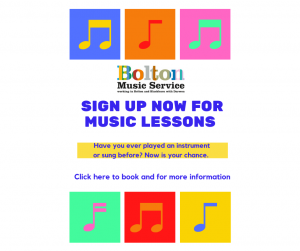 Or to sign up or find out more then visit our Parents and Pupils page here
YouTube – View our videos and performances
Take a look at our YouTube channel and browse the videos on our playlists. If you like what you see then please don't forget to subscribe and like the videos. Bolton Music Service YouTube Channel
Careers – Working for Bolton Music Service
All our vacancies will be advertised here on our website and on social media. Please do keep coming back to check any latest vacancies.
Current Vacancies: We are currently looking for enthusiastic and experienced peripatetic teachers to join our pool of supply teachers, for more information see Instrumental & Vocal Supply Teachers
Bolton Music Service Privacy Notice
Please click here to view our privacy notice